Villa Windu Sari: Blissful Balinese Hideaway in Seminyak
Bali Island is probably the most anticipated place to visit in Indonesia. It has been very famous for its exotic panorama and unique cultures. And to begin the remarkable journey in Bali, tourists may find Villa Windu Sari Seminyak to be the best starting point.
The landscape consists of two pavilions decorated in traditional Balinese style, complimented by a beautiful botanical garden. Walking down the outdoor path, you will find tropical trees and beautiful flowers planted in a garden guarding a deep blue square pool 13.5 x 4.5 m wide. While in this area, breathe in the soothing air in the bale, a pavilion complete with sun beds and umbrellas where you can feel the tropical heat on your skin.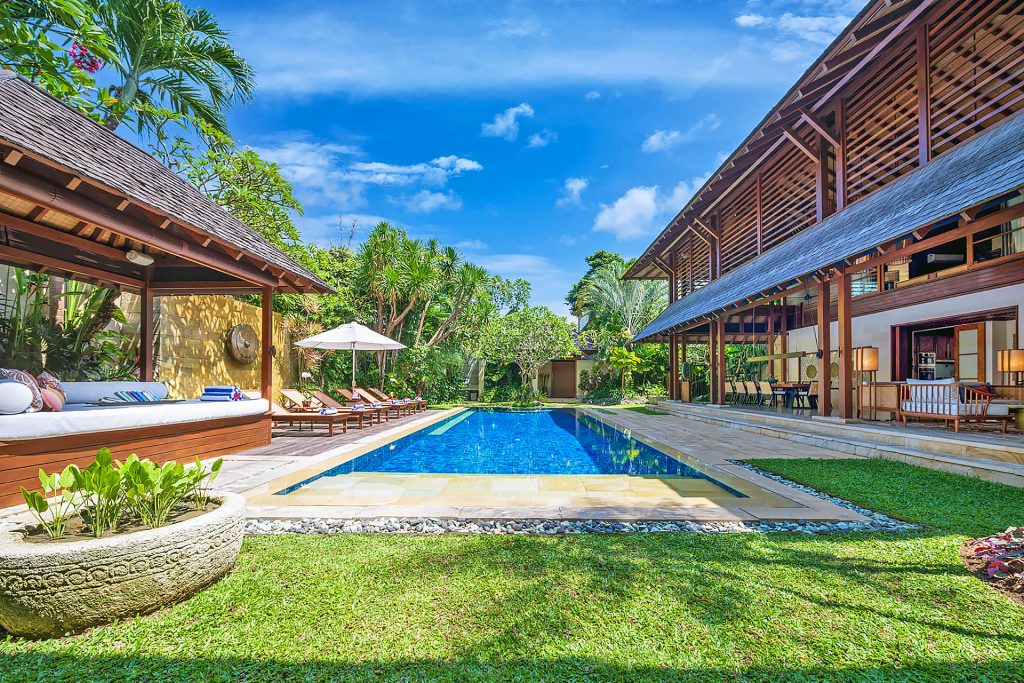 Moving closer to the house, you will meet the living room, one nice area placed semi-outdoor covered in a honey-colored teakwood roof combined with extravagant hanging lamps at the ceiling and a polished marble floor underneath. The living room offers a garden and pool view and is completed with a pair of large, comfortable couches and one wide ottoman to create and support all kinds of togetherness activities. Under the same decoration and area is the dining room. All varieties of local and international cuisine from a fully equipped modern kitchen, prepared by professional staff, are served here over a long table with eight sets of chairs.
Four bedrooms are all inside the house; two are upstairs and another two are downstairs. Each bedroom is furnished with wardrobes, AC, a safe deposit box, a sliding glass door, and a 32" flat screen television with iPod dock for private entertainment. Downstairs, the twin bed provides a showering experience under the open sky, while the neighboring king-sized bed offers a more conventional bathroom style. Climbing upstairs, there is a master bedroom furnished with a king-sized bed, a spacious dressing area, a custom-built desk along the wall, and an elegant marble bathroom. The last remaining rooms come with a king-sized bed in a more colorful theme, both in the bedroom and bathroom area. In addition to this level, an outdoor balcony runs along the two rooms' sides for your relaxingmomentst.
Villa Windu Sari Seminyak also provides one TV room, which is very much used as a house entertainment center. One set of a 50" flat screen plasma with a number of international channels, a Yamaha theater sound system, a deep, large armchair, and a long sofa complete the room. During your stay, you had time to visit the gym and train yourself with the facilities, such as the cross-trainer, treadmill, weights, and mats. This private fitness center is also equipped with a mirrored wall, a fridge, an iPod-controlled sound system, and a TV screen.
As an addition to what makes the house a perfect stay, it is located right in the heart of the Seminyak district, where most of the fun and pleasures of the nightlife take place. The district contains lots of elegant and classy boutiques, fine dining restaurants (i.e., KuDeTa and Hu'u), numerous popular hangout spots and clubs, and its own quiet Petitenget beach nearby. It is also close to the iconic landmarks, The Oberoi and The Legian hotels, and only 20 minutes from the airport.
Book Villa Windu Sari Seminyak for your coming holiday.